Description
Second generation two way wireless for DCC. Will handle up to 48 wireless cabs. All features of your cabs are available without plugging in! Radio equipped cabs automatically switch from radio mode to tethered mode when plugged in. A seven foot cab bus hook up cable is included.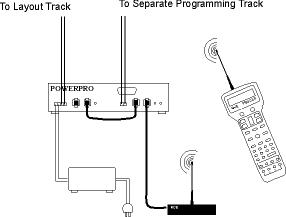 RB02 Hookup:
1- Thread the included antenna to the mating connector on top of the RB02.
2- Connect the included 6 wire cable from the "Bus" connector on the RB02 to a convenient Cab Bus connection on your layout (a UTP panel is shown as the connection point above).
With the introduction of the RB02, radio repeaters were introduced to allow the radio system coverage to work with very large layouts. Repeaters look exactly like radio base stations but they are not.  They all have a label on them that says they are a repeater. Connection wise, they do not connect to the cab bus but instead connect to one of the two RB02 repeater jacks or a repeater jack of another repeater. A large array of repeaters can be connected to a single radio base station allowing for mega large radio coverage. However, in practice there is diminishing performance returns in going past two repeaters.